Anti-nuclear weapon campaigner ICAN receives 2017 Nobel Peace Prize
Source: www.chinadaily.com.cn : 2022-06-14 06:31:04 :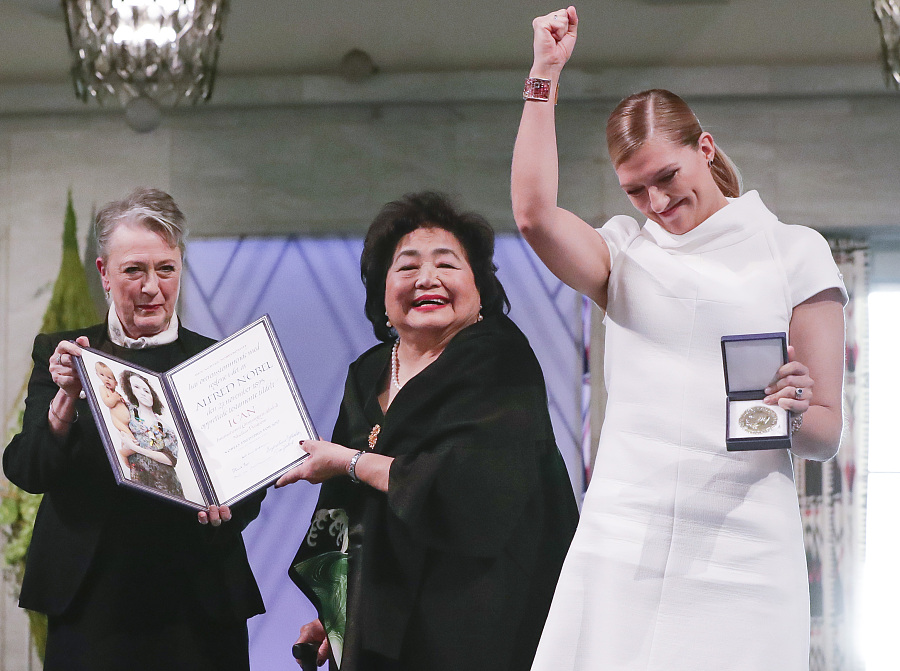 OSLO – The International Campaign to Abolish Nuclear Weapons (ICAN) received the 2017 Nobel Peace Prize at an awarding ceremony here Sunday, for its efforts to give new momentum to the process of abolishing nuclear weapons.
At the ceremony held at the Oslo City Hall, ICAN chief Beatrice Fihn, and Setsuko Thurlow, a survivor of the 1945 atomic bombing of Hiroshima, received a medal and a diploma of the award.
"ICAN is receiving the award for its work to draw attention to the catastrophic humanitarian consequences of any use of nuclear weapons and for its ground-breaking efforts to achieve a treaty-based prohibition of such weapons," said Berit Reiss-Andersen, chair of the Norwegian Nobel Committee, at the ceremony.
She said this year"s prize follows in a tradition of awards that have honoured efforts against the proliferation of nuclear weapons and for nuclear disarmament.
In a joint Nobel lecture, Fihn called on all countries to help achieve "the end of nuclear weapons".
"The risk for nuclear weapons use is even greater today than at the end of the Cold War. But unlike the Cold War, today we face many more nuclear armed states, terrorists, and cyber warfare," Fihn said.
For her part in the lecture, Thurlow, 85, recounted her own experiences as a 13-year-old girl during the U.S. atomic bombing of Hiroshima on Aug 6, 1945, in which eight of her family members and 351 of her schoolmates died. She urged efforts to "forever eradicate the threat of nuclear annihilation".
ICAN, a coalition of non-governmental organizations from around 100 different countries, was formally launched in Austria in April 2007. Its main office is located in Geneva, Switzerland.
Read the original article on Here!